Our staff builds and nurtures an inclusive atmosphere where all are treated with respect and care for one another's safety and well-being.
"I grew up in the hills of Brown County and from an early age spent every waking moment outside, exploring nature. This led me on a path to become an ISA Certified Arborist and though I truly loved working with trees, I soon became dismayed at the unsustainable practices of the "Green Industry" including a lack of native plant diversity in our landscapes. I really wanted to have a bigger and more positive impact on our landscapes and I found that through ecological restoration."
Spencer started Eco Logic in 1999 with the dream of restoring ecosystems throughout Indiana with a focus on high quality remnant natural areas. Since that time Spencer has guided Eco Logic through a transformation from a small restoration firm with one crew run by the owners, into one of the premier ecological restoration firms in the Midwest.
In the early years Spencer was involved with each aspect of every restoration project including completing the work in the field and follow up monitoring. Some of his early projects were restoring fire adapted, globally rare ecosystems in northwest Indiana such as Dune & Swale, Oak Barrens and remnant Prairie through projects for the Indiana Division of Nature Preserves. This gave him a unique understanding of the importance and challenge of restoring our high quality remnant natural areas.
Since that time Spencer has overseen many large multi-year government invasive species control contracts on thousands of acres of public land. He has also been involved in the green infrastructure movement and has assisted many municipalities with planning, implementation and management of stormwater BMP's.
He has focused Eco Logic's resources on safety, training, and employee retention and has built an extremely passionate and talented team of restoration ecologists.
Matt Fox has acquired almost 15 years of experience working in the field of ecological restoration. His career began as a crew leader with AmeriCorps working in cooperation with The Santa Clara Open Space Authority in California monitoring and managing various invasive species. Matt then served as the Ecologist's Assistant for California State Parks both in the Northern half of Big Sur and then Monterey Bay. There he was responsible for such tasks as seed collection/propagation/planting, flora and fauna monitoring, and implementing a variety of IPM (integrated pest management) techniques, both mechanized and manual. In 2006, Matt and his wife moved to Louisville, Kentucky where he worked on the woodlands restoration crew for Olmsted Parks Conservancy as a Biological Technician. Here he was responsible for trail maintenance, vegetation surveys, and IPM. Matt joined the Eco Logic team in 2010 and has served as project manager for several long term projects including a restoration project at the TNC Prairie Borders Complex, and several invasive species management projects at Hoosier National Forest. He also oversaw the DNR Kudzu eradication contract for the DNR/State of Indiana and completed a large scale Ailanthus reduction on the 600 acre Sherman/Minton Nature Preserve in Floyd County.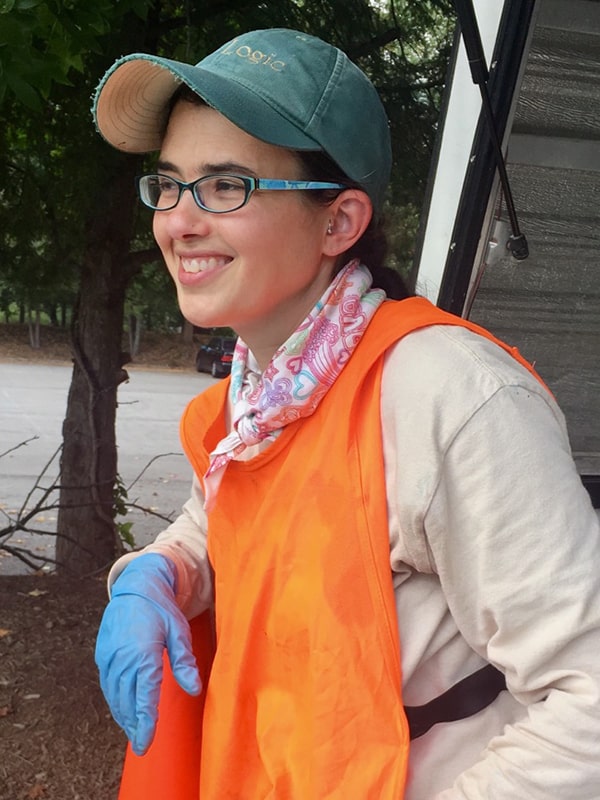 Director of GI & Native Landscaping
"I have always enjoyed gardening in general since I was a young child following my mom around the yard. My interest in native plants and sustainable practices culminated in college and continued to grow from there. My work with Eco Logic since 2010 has also allowed me to deepen my understanding of the bigger picture of ecology beyond our backyards. I am fortunate to share the wonders of the outdoor world and of native plants with our young daughter! Through hiking, skiing, camping and of course, digging in the dirt, I hope to instill in her and those around me, the need for continued preservation of our natural lands and the native flora and fauna dependent on those lands."
Natalie has a B.S. in Agriculture from Berea College. She has been working with native plants for over twenty years. From her introductory years as a student worker on the grounds crew at Berea College to her current position at Eco Logic, Natalie has worked in the native plant landscaping and nursery field across four states – Kentucky, Ohio, North Carolina and Indiana.  This regional experience has exposed her to a wide range of plants. Her number of years in landscape, nursery, and restoration experience allows her to bring a variety of skill sets to the Eco Logic team. She designs and oversees native landscaping, green infrastructure, and installation projects. She is a leading consultant and salesperson at Eco Logic who is able to manage her projects through to completion. She also provides botany and plant identification training for our restoration staff. Natalie as a principal owner advises on key management decisions with the other members.
"Love of nature has been the core of my existence throughout my life. I grew up on a wooded property in central Indiana where I learned to identify most of the tree species by the first grade. Throughout my childhood and adolescence, my passions would vary between birds, wildflowers, weather, trees, and mammals. My interest in weather led me to earn a Bachelor of Science degree in Atmospheric Science from Purdue University. The effects of climate change on plants communities has become one of my passions."
Kevin worked as a meteorologist with the National Weather Service for three years following college, but soon his love of plants called him back to the nursery industry where he developed the product line and managed sales and production at a wholesale native plant nursery for 22 years. During this tenure, Kevin was involved in numerous large scale restorations throughout Indiana as a material supplier and technical advisor. Some of the ecologically significant wetland and prairie restorations in the Midwest have benefited from Kevin's expertise.
While working at the nursery, Kevin also honed his botany skills by performing floral inventories for park districts and private individuals. His floral inventory of Mounds State Park was published in the Proceedings of the Indiana Academy of Science. In addition, Kevin has authored numerous articles published in nursery trade publications and nonprofit newsletters.
Kevin's love of nature has fostered a strong environmental ethic which is reflected in all of his work. The experience and pragmatism gained through two decades of work in ecological restoration allows Kevin to develop scientifically sound and workable solutions for our clients.  Kevin is an integral part of the Eco Logic team in developing successful solutions for green infrastructure, native landscaping, plant community establishment, invasive plant management, and master planning for large properties.
"I have always been drawn to being 'behind the scenes'. I believe that this is what guided me into seeking administrative roles, and what also fueled my desire to further my education with a business focus. Before joining the Eco Logic team, I collected experience working for small businesses and community based organizations.
Since I was young, I have always felt a connection to nature. To me, there are few things sweeter in life than the sounds and smells that it provides. I was made to realize early on that the unfortunate reality of many office based positions meant interior desk spaces with a lack of windows and abundance of fluorescent lighting. Holding positions that entailed that exact environment guided me to develop an even greater appreciation for nature, and an understanding of how important it is to protect and preserve it.
I came to the Eco Logic team with a passion for business, a love for nature, and an eagerness to learn. Eco Logic has provided me with an opportunity to be a part of a team that possesses a shared appreciation for nature. I am grateful to be in a position that allows me to exercise my passion for business-focused work and that I am able to provide support directly to the field staff.
I have learned so much since being here, and feel like I have only scratched the surface. I look forward to obtaining the knowledge that the future brings."
Autumn joined the Eco Logic team in early 2021, while completing her degree. She graduated with an A.A.S. Business Administration, also earning certificates in Business, Technical Business, and Human Resource Management. Autumn's great ability to manage work while being enrolled in school shows how multi-faceted she is. She has jumped into a challenging role here and excelled at taking on new challenges, all while working to help keep the back end of running the business in order. Her previous experience of administrative and support service experience with a small local business, gives her a tailored approach to the needs of this company. We are so thankful to have Autumn as part of our team!
"Biology has always been my passion. As a child I would spend hours in the forest next to my home studying plants and wildlife. This continued in college, where I studied Biology with an emphasis in ecology. After graduation I took the first biology related job that would hire me, which happened to be working in a lab at a pharmaceutical company. I quickly realized that I wanted a career working outside for the betterment of the natural world. When I found Eco Logic I applied immediately and it's been one of the best decisions I have ever made."
Caleb graduated Cum Laude from Indiana Wesleyan University with a major in Biology. As part of his course work he studied at Au Sable Institute of Environmental Studies where he gained hands-on experience with wildlife and restoration ecology. Since starting at Eco Logic in 2014, Caleb has earned his Indiana Pesticide Applicators certification, Category 3a Ornamental Pest Management certification, Firefighter Type 2 certification, and a Commercial Drivers License. He is also one of only seven people in Indiana to be a Certified Ecological Restoration Practitioner (CERP), earned through the Society for Ecological Restoration. 
Through his extensive experience working on and leading a variety of restoration projects, he has become proficient in all aspects of integrated pest management. This includes various forms of mechanical control, responsible use of a variety of herbicides, and best practices for native plant installation, from hand seeding and plug planting to large scale no-till seed drilling and mechanical planting of thousands of trees. He was utilized extensively as part of the effort to fight the Callery pear infestation at Crane Naval Base and in restoring 170 acres of black oak savanna in Northern Indiana. 
In 2018, he became a project manager and has since written and implemented several successful restoration plans. He manages Eco Logic's in-house GIS data, as well as geodatabases for clients. Caleb's passion for restoring native plant communities and diligent work ethic make him a valued member of the Eco Logic team.
Raised in rural west central Indiana, Sam was introduced to the outdoors at a young age. Deer and small game hunting with his father was the catalyst to a lifelong interest in the natural world. For college Sam attended Purdue University's School of Forestry and Natural Resources and majored in wildlife biology. There he learned the ecology and management of ecosystems and was introduced to the threat of invasive species and the importance of ecological restoration.
Sam joined the Eco Logic team in 2014 after graduation from Purdue. Since then Sam has been involved in a suite of projects that focus on large scale landscape level restoration projects. Sam's love of history and the desire to restore our native landscapes to a resilient resemblance of their pre-settlement form motivates him on a daily basis. In 2019 Sam helped establish the prescribed fire division at Eco Logic. He looks forward to growing this division utilizing the natural process of fire to restore more natural areas.
"As a child growing up in the rolling hills of Southern Indiana, I knew I'd spend my life protecting and caring for the land that raised me. In 2015, I completed my first large hike, spending a month in Southern Utah summiting mountains and traversing canyons. From then forward, adventure prevailed as my driving force in nature. I've fought fire in Pacific Northwest, rode horses to the hot springs of Yellowstone, and provided emergency rescue and medical services deep in the backcountry. However, a part of me knew I needed to bring this passion home to Indiana to work for the betterment of our state's public lands and forests. Through Eco Logic, I'm able to maintain and manage public spaces in communities across Indiana, furthering access to healthy forests for more of Indiana's citizens."
Saige joined Eco Logic as a Restoration Technician in the spring of 2019 with a background in Federal land management. After graduating with a degree in Outdoor Recreation, Parks, and Human Ecology at Indiana University in 2016, she provided educational and interpretive services on the Siuslaw National Forest as an Interpretive Field Ranger. Shortly after, she began finding her passion in natural resource management on the Columbia River Gorge as a Forestry Technician focusing on trails and fire. As her experience grew, she accepted a position as a Backcountry Ranger for Yellowstone National Park, providing emergency and backcountry rescue services to the Old Faithful area. Bear attacks, mountain peaks, and deep snow couldn't keep her from returning to Indiana. After four years filled with adventure out west, she longed for the autumn leaves and rolling hills of the area she loved. Returning to Bloomington, IN, she found family and a team of passionate stewards in Eco Logic. Her previous experiences lead to her quickly into a supervisory role. She focuses on prairie and urban greenspace management combined with forestry restoration, and helps to create spaces where communities and native plants thrive together. 
"I grew up in southern Indiana in the town of Madison. My summers were spent playing in creeks, hiking through the hollows of the Ohio River Valley and camping along the now decommissioned Indianapolis Railroad.  From an early age I longed for adventure in the outdoors, so after graduation I followed my passions, packed my bags, and moved to a small town in eastern Tennessee. There I worked as a raft guide, leading droves of people on hundreds of trips down the Pigeon River. At the end of my adventures in Tennessee, I found myself back in Indiana, and shortly thereafter was hired by Eco Logic."
Brant joined Eco Logic as a Restoration Technician in the fall of 2014. In his first year he took part in two large scale tree plantings along the Ohio River, as well as a stream restoration along Sugar Creek in Bartholomew County. Because of his diligence, attention to detail and creative spirit, Brant was asked back the following spring to continue on as Restoration Technician. He quickly picked up on safe herbicide application practices and honed his plant identification skills. Over the following 2 years, Brant worked on many high impact projects such as the black oak savannah restoration at Prairie Border for The Nature Conservancy, Ailanthus reduction at Sherman Minton Nature Preserve for the IDNR, and reed canary grass control at Otter Creek for Hoosier National Forest. In 2017 Brant was promoted to Restoration Supervisor and holds a Forest Pest Management license in both Indiana and Kentucky. He has expanded his work skills including proficiency with chainsaw and heavy equipment operation. Beginning in 2017 he became the field lead in working with IDNR in the eradication of Kudzu in nearly 36 counties in Indiana, and continues to be a valuable asset to the team.
"At the age of five I was transplanted from Reno, NV to the rolling knobs of central Kentucky. This event sprouted my interest in the relationship between natural and urban landscapes that I continue to cultivate to this day. My decision to follow a career in ecology is in part due to a serendipitous encounter with a city arborist in my hometown, who eventually grew to be my mentor. Growing up in Kentucky's natural native beauty has inspired me to work hard and fight for the protection of natural areas across our region. Working for Eco Logic has allowed me to take part in numerous large scale restoration projects. It is fulfilling to be the "boots on the ground" that facilitates the biotic changes we seek in the world. I'm proud to be working in a historically male dominated field as an equally empowered woman at Eco Logic."
Christena came to Eco logic in 2015 with a wide range of skill sets which she gained throughout her three years of experience working for City of Frankfort Parks. Through her roles as an Ecological Restorationist and Environmental Education Coordinator she gained valuable experience in overseeing invasive species treatments, habitat restoration, environmental education, prairie maintenance and GIS mapping. Since teaming up with Eco Logic, Christena's plant identification skills and leadership ability have made her an integral and versatile team member in both our Ecological Restoration and Green Infrastructure divisions. Christena has obtained certification in wilderness first aid, wildland firefighting, and is a licensed applicator through the Office of the Indiana State Chemist.
"The early years of my life were spent in the Chicago suburbs, after which I would move to several different homes throughout the Midwest. No matter where I lived, I always managed to find the nearest nature preserve or back lot of trees to spend hours exploring. The initial awe felt for the woods and natural places near home soon developed into a driving curiosity for deeper understanding of what I observed on my adventures. As I began finding the answers in the study of biology, ecology, and botany – I knew I had found my life's passion."
Tommy received his B.S. in Environmental Science with a concentration in Ecology from Indiana University Bloomington. After graduating, Tommy worked in several different ecology labs as a research and lab technician. Soon after, he took a position at the Indiana University Herbarium where he worked under Paul Rothrock and got the opportunity to study the original specimen collections of Charles C. Deam. With his spare time, Tommy would also work the late summer and fall harvest at local organic farms. 
In 2016, Tommy began working at EcoLogic as a seasonal technician. Within two seasons, he was soon leading crews and heading projects; eventually leading to his position as supervisor. From the native-planted bioswales of the urban landscape to the natural prairies, woodlands,  and wetlands of the midwest, Tommy continues to be a valuable team member amongst the diverse workspaces that Eco Logic influences.
"I feel lucky to have parents that encouraged spending time outdoors. With a combination of living most of my childhood in nature and taking on my first job at a plant nursery in high school, this sparked my interest and began my passion for ecology and plant ID. Bloomington became my home in 2013, where I graduated from IU SPEA with a bachelors in Environmental Managment in 2017. Between graduation and joining Eco Logic, I moved around from Indiana, to Jackson, Wyoming, and Arizona  before coming back and joining the Eco Logic team in Spring of 2020, where I am able to exercise my passion for the natural world" 
Hunter is an outstanding supervisor who picks up on work plans quickly and can carry out complex tasks. He supports his direct supervisor by handling mobilization and inventory of equipment, materials, and supplies. As an avid outdoorsman, Hunter has an extremely strong work ethic and enjoys the physical nature of the work. He is also in-training to become an equipment operator.
Bryanna Criswell grew up in Denver, Colorado, where she fostered a love for the outdoors. In 2019, she graduated with a BS in Environmental Science from Indiana University. 
As an undergraduate, she worked with the Limnology Lab to aid in lake water quality assessments and aquatic vegetation surveys. Additionally, she collaborated with Indiana University's Analytical Geochemistry Lab to determine the ongoing success of wetland bioremediation projects implemented at copper mines. She conducted undergraduate research assessing the impacts of stream erosion on macroinvertebrates. While in school, she also spent her time as an archivist for the IU Herbarium and the Outdoor Education Program Director for the Bloomington Boys and Girls Club. 
Following graduation, Bryanna joined Aquatic Control as an Aquatic Biologist, where she worked to manage and monitor the health of ponds and lakes throughout the state of Indiana. During this time, Bryanna focused on restoring aquatic ecosystems through GIS mapping, invasive vegetation surveys and removal, algae management, fisheries management, and a variety of restoration projects.
Bryanna joined Eco Logic in the summer of 2021 as a Restoration Technician and has since become a valued member of our team.
"Born and raised along the Ohio River in Madison, IN, I spent most of my childhood hiking the surrounding valleys and hills, developing a lifelong respect and interest in the natural world. My father always made an effort to take my siblings and I outdoors to show us the vitality of nature, whether it was to the backyard or various different state and national parks. These inspiring adventures became a core part of my aspiration to one day work in the environmental field."
Mitch graduated from Indiana University in 2019 with a B.A. in Geography, concentrating on water resources. Before joining the Eco Logic team, Mitch worked for 4 years as a landscaper, furthering his appreciation of working with plants and forming a baseline knowledge of native and nonnative species identification. He joined Eco Logic in the summer of 2020 and immediately rook and interest in the applied ecological goals of the company. From honing his identification skills of plant identification to learning safe herbicide application. Mitch has aimed to become a competent restoration technician. He has worked several seasons on the IDNR Kudzu Project, treating the aggressively invasive plant across 36 Indiana counties. With his hardworking nature and passion for lifelong learning, Mitch continues to be an important member of the Eco Logic Team.  
Restoration Technician 2022, 2023
Restoration Technician 2022, 2023
Restoration Technician 2022, 2023
Restoration Technician 2022, 2023
Restoration Technician 2021, 2022